Interview –
Sir Robin Knox-Johnston:
'I'm not ready to go'
The legendary sailor reflects on isolation and mortality in the wake of COVID-19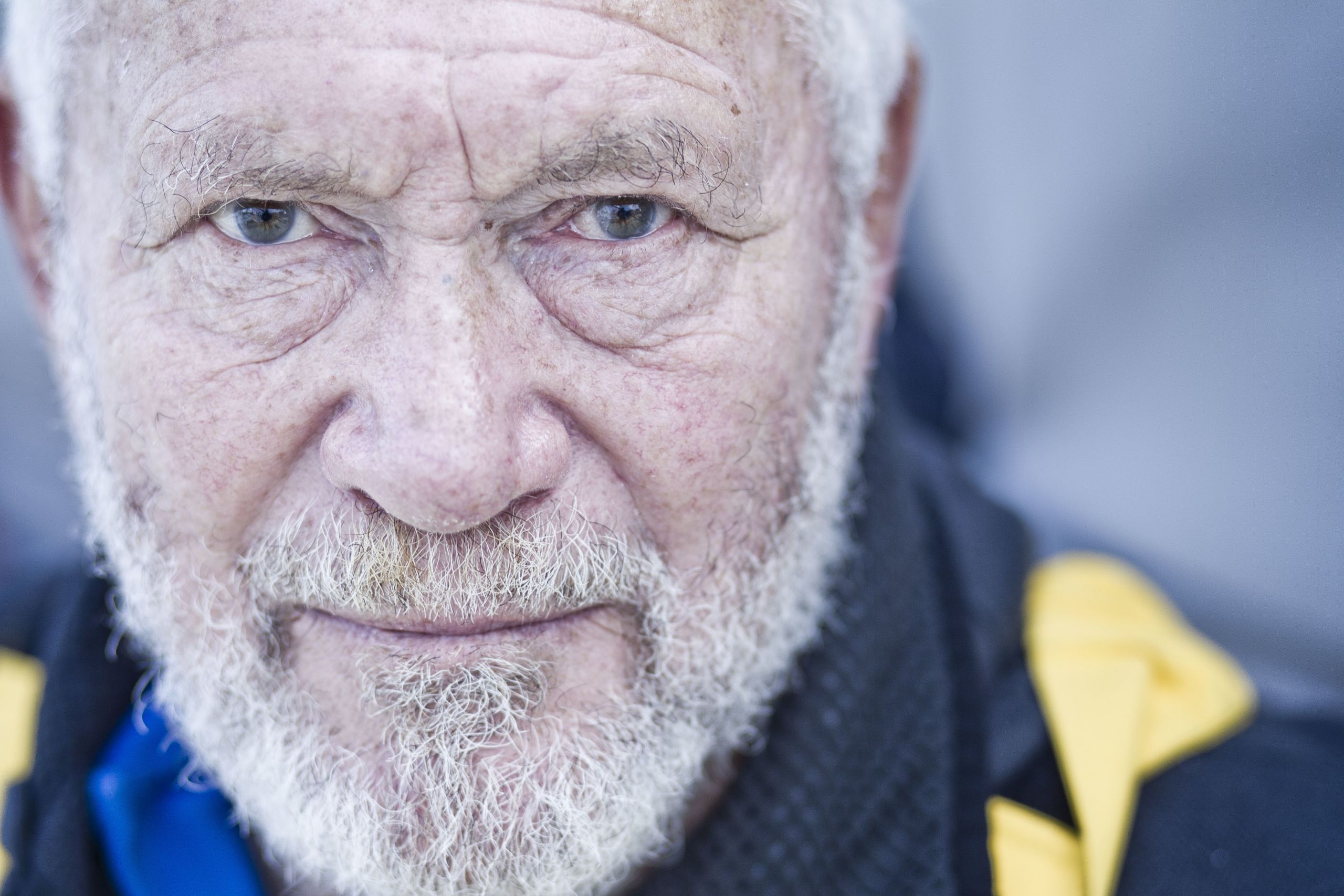 Photograph: Clipper Round The World
Photograph: Clipper Round The World
Across a crackling Zoom call, Sir Robin Knox-Johnston tells me he's had a busy afternoon.
"I decided to try and roast a chicken for the first time," he says, a glass of wine in one hand, cigarette balanced in the other.
This is the start of a lengthy DIY anecdote. It involves him taking-off his stove's handles, removing his oven door twice (having initially put it back the wrong way around), and finally, re-assembling his entire cooker.
"And all this bloody effort just to roast a chicken!" he says indignantly.
There's a kind of perversity in hearing the most legendary competitive sailor of all time real off this tale of domestic frustration.
But this is one of several "totally unnecessary" tasks he has undertaken since lockdown.
It's a strategy, he explains, developed during years at sea, that allows him to stay sane while alone. "You need projects," he says. "I've got to do something or I'll go mad."
The birth of an idea
His most extreme period in isolation began in June 1968, when he entered The Sunday Times Golden Globe Race – a contest to see who could single-handedly circumnavigate the world first, non-stop.
Today, François Gabart holds the record at 42 days and 16 hours. Back then, nobody knew if the feat was possible. Best estimates suggested it would take roughly 9 months.
Sir Robin embarked on this journey in his 32-foot Bermudan Ketch, named Suhaili. A new, much larger vessel would have been more suitable, but he couldn't find anyone to finance it.
Suhaili was originally constructed in India. He'd been living there during his service in the Merchant Navy and had later sailed the boat back to London with his brother and a friend.
But this was different. How did he know he could tolerate up to a year without anyone around him? "I had no idea," he says.
"I'd been at sea for 14 years, since I was an apprentice, and I just thought, here's a great opportunity. How often do you get a chance to do something special?"
"My company said, basically, 'You're fired'," he adds. "And once you've made that decision [to go], a lot of the problems disappear."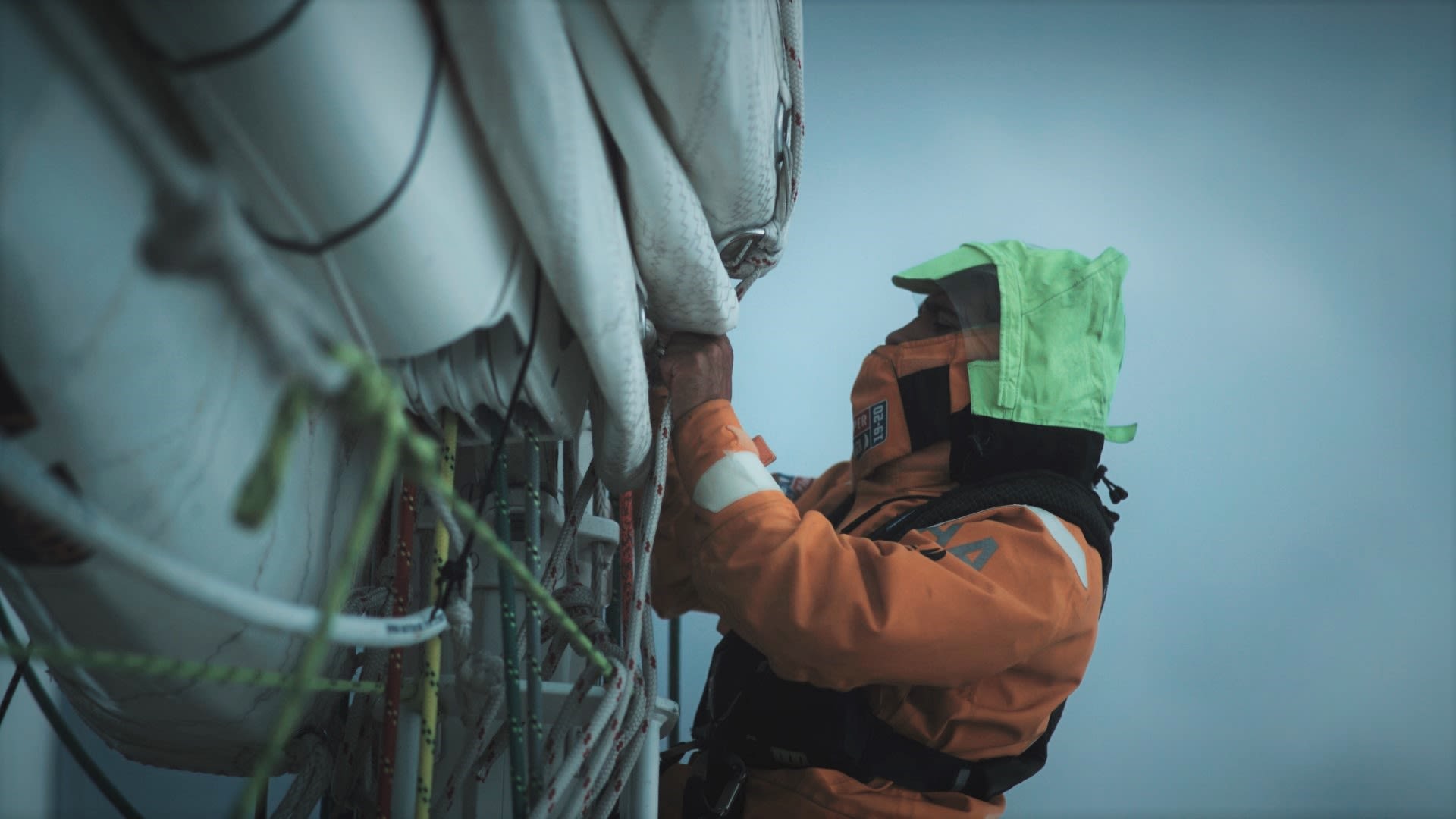 'I was isolated; they were not'
After two and a half months at sea, his VHF radio failed. He could hear incoming calls, but his faulty receiver wouldn't allow him to respond.
He not only relied on his radio for weather reports but as a navigational aid. From this point on, he would be completely alone.
Wasn't this experience disturbing? "Frustrating!" he corrects me, "totally frustrating… The fuses kept going, and it took me another five months before I discovered the problem."
Later in his journey, as he was rounding Cape Horn, on the southern tip of South America, he hit a violent storm. Suddenly, the device crackled into life.
"I was just fiddling with it, and I picked up a Baptist station in the Caribbean which told me the Americans had sent a man around the moon," he says. "And I thought: 'Wow! Fantastic!'"
At this time, manned space flights and solo circumnavigations were seen as equally trailblazing.
But with scores of scientists and engineers forensically analysing the shuttle's second-by-second progress, Sir Robin was aware of a key difference.
"They were still in contact," he says. "I was isolated."
"[My journey was] nothing like as dangerous, in fact, because I'm on my boat, and I'm on the oceans, and I'm comfortable with that," he insists. "But I had no [means of] communication."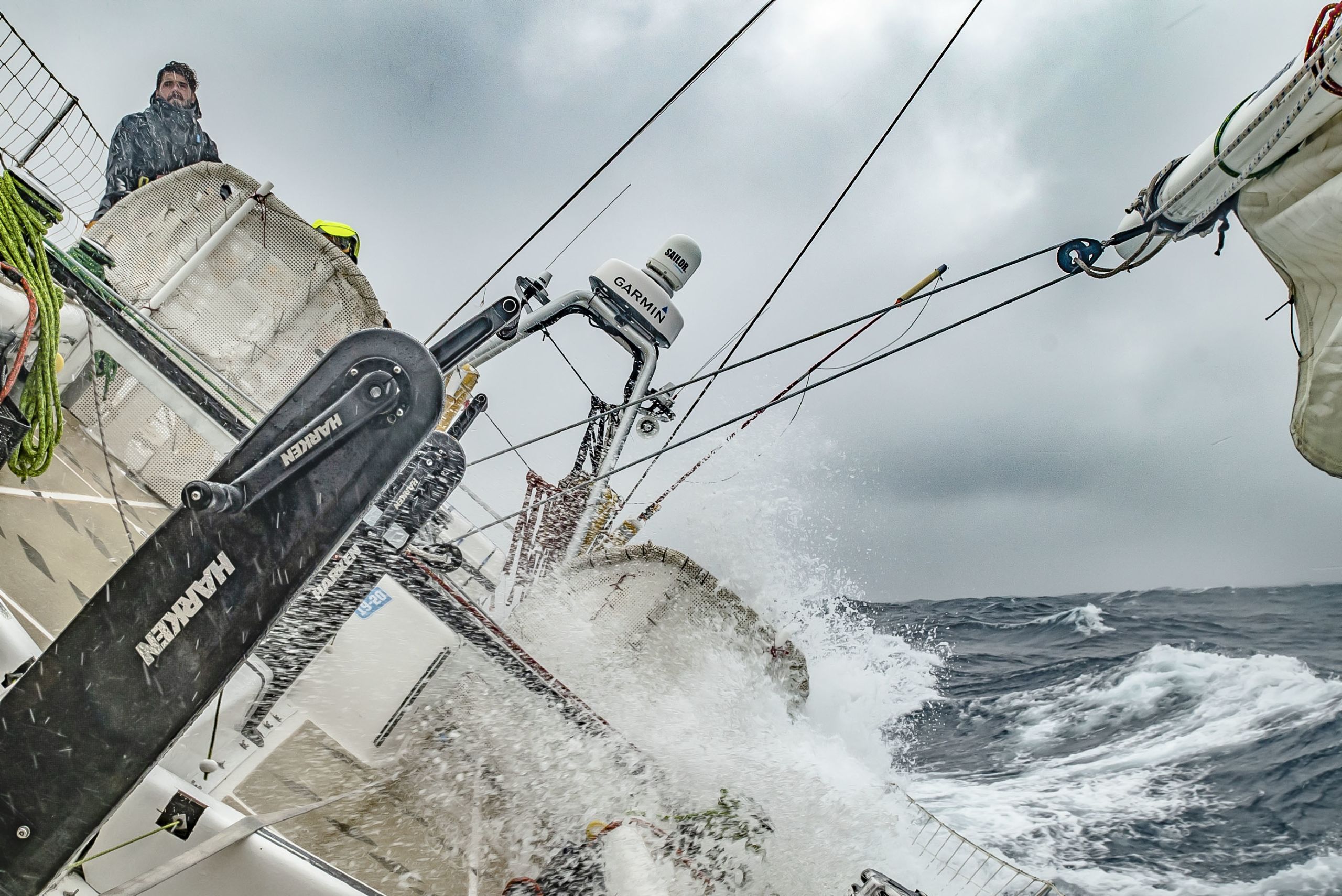 "I just thought, here's a great opportunity. How often do you get a chance to do something special?"
'It was a different era'
At 3:20 on 22nd June, 1969, Sir Robin passed into Falmouth Harbour, becoming the first person ever to single-handedly circumnavigate the globe non-stop.
He'd spent 312 days at sea, navigating some of the fiercest conditions imaginable. Slipping back into society, he noticed a difference in his temperament.
"My friends who had been with me before I left said I was much calmer," he says.
"I was a pretty aggressive young man. I didn't back down, you know. If you wanted a scrap, you can have it. [But] I think perhaps I got something out of my system, in a funny sort of way."
He strikes a stoic, almost un-emotive tone about his extended absence from those close to him. But as he reminds me, he grew up in a completely different era.
"We had national service when I was a young man, and people would disappear at the age of 17, 18 – probably end up in Malaya fighting the communists," he says. "We just accepted it them."
At 81, his generation also grew up in the shadow of the Second World War, a formative experience.
"I didn't really know my father until I was eight," he says thoughtfully. "He was in the Army, in the Royal Engineers, and occasionally this stranger would turn up – and that's Daddy."
"He'd missed my growing up. I'd missed him while I was growing up. Both of us lost out really. But was I alone? No, I wasn't. I mean, in my school, I think about a quarter of us had lost our fathers."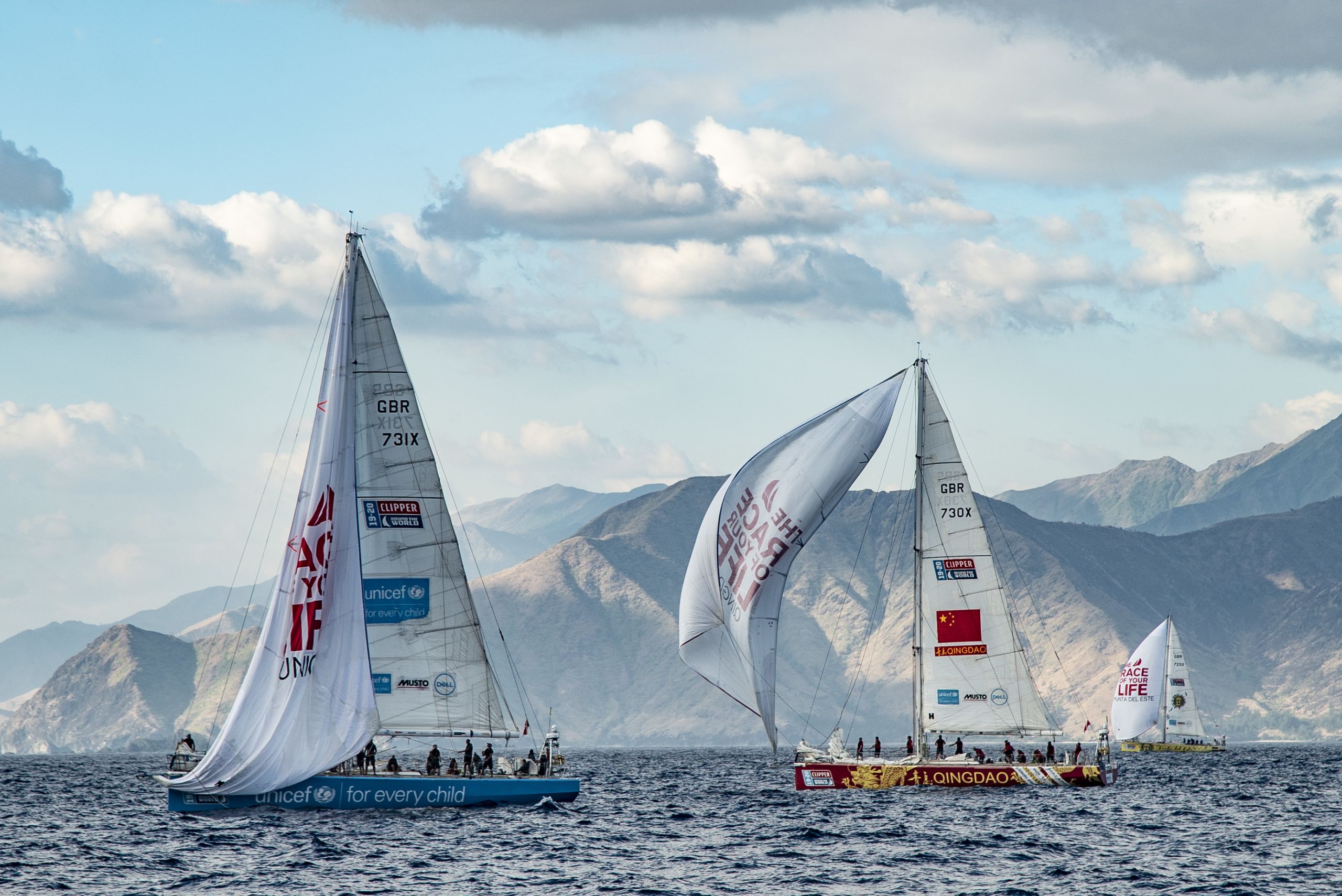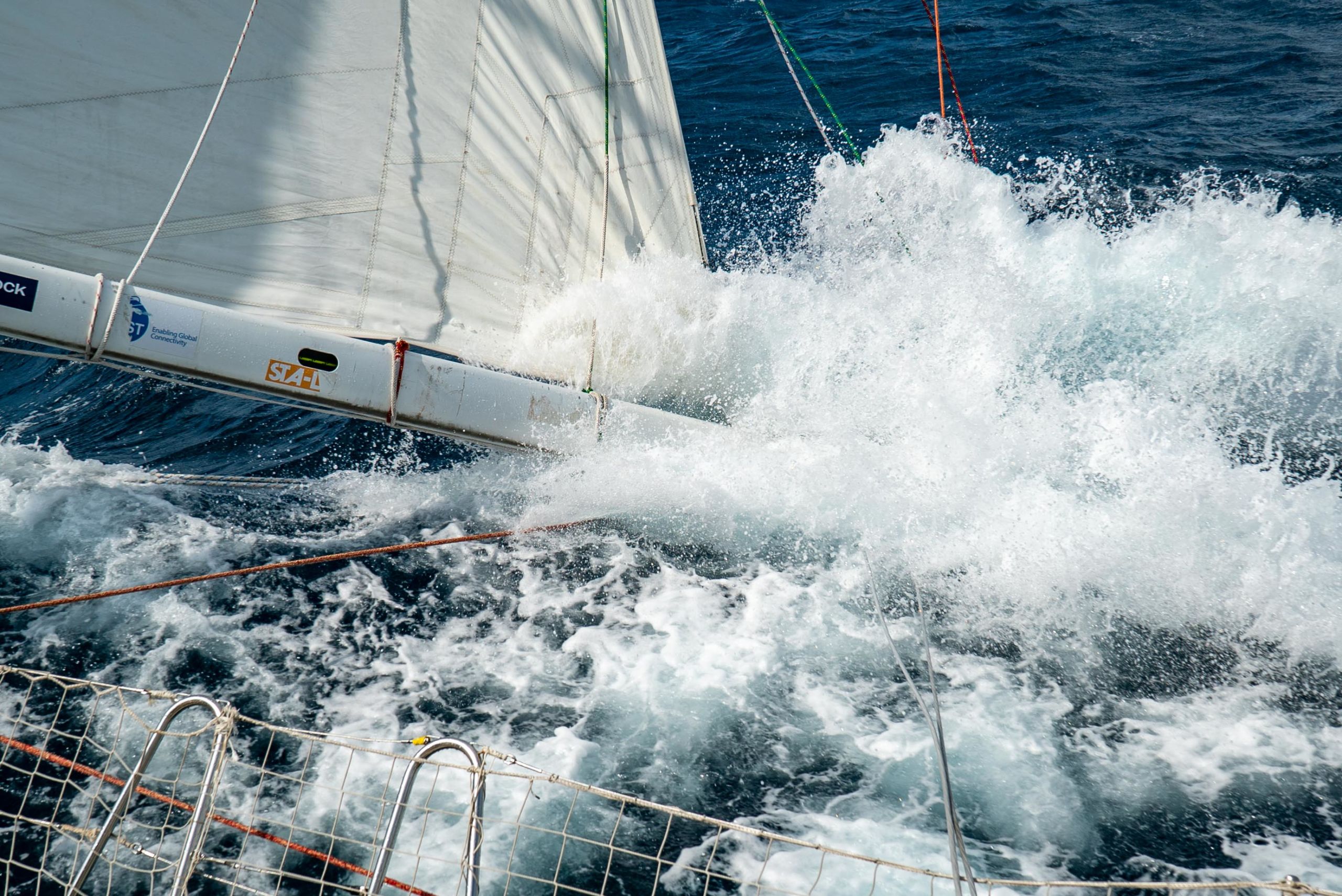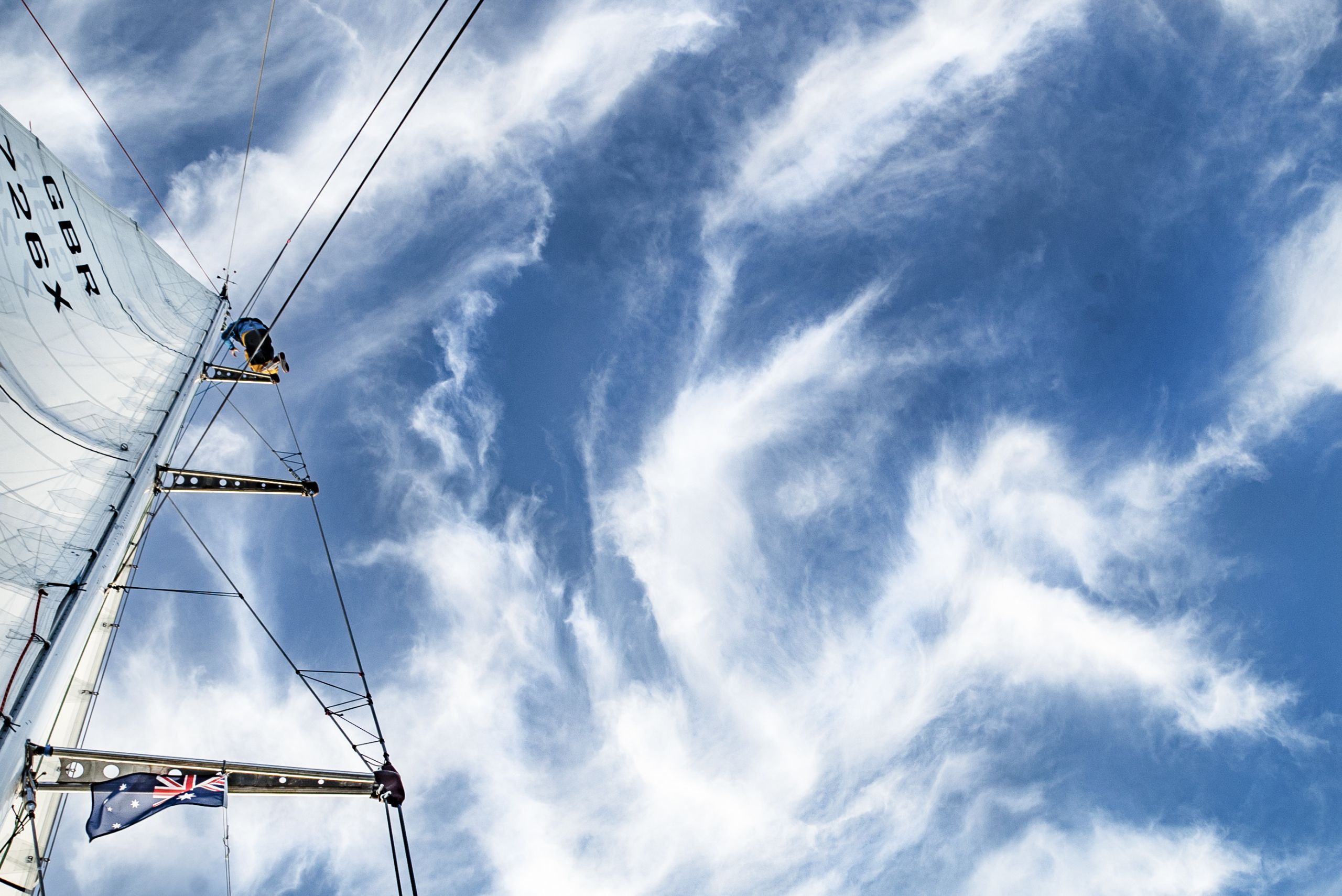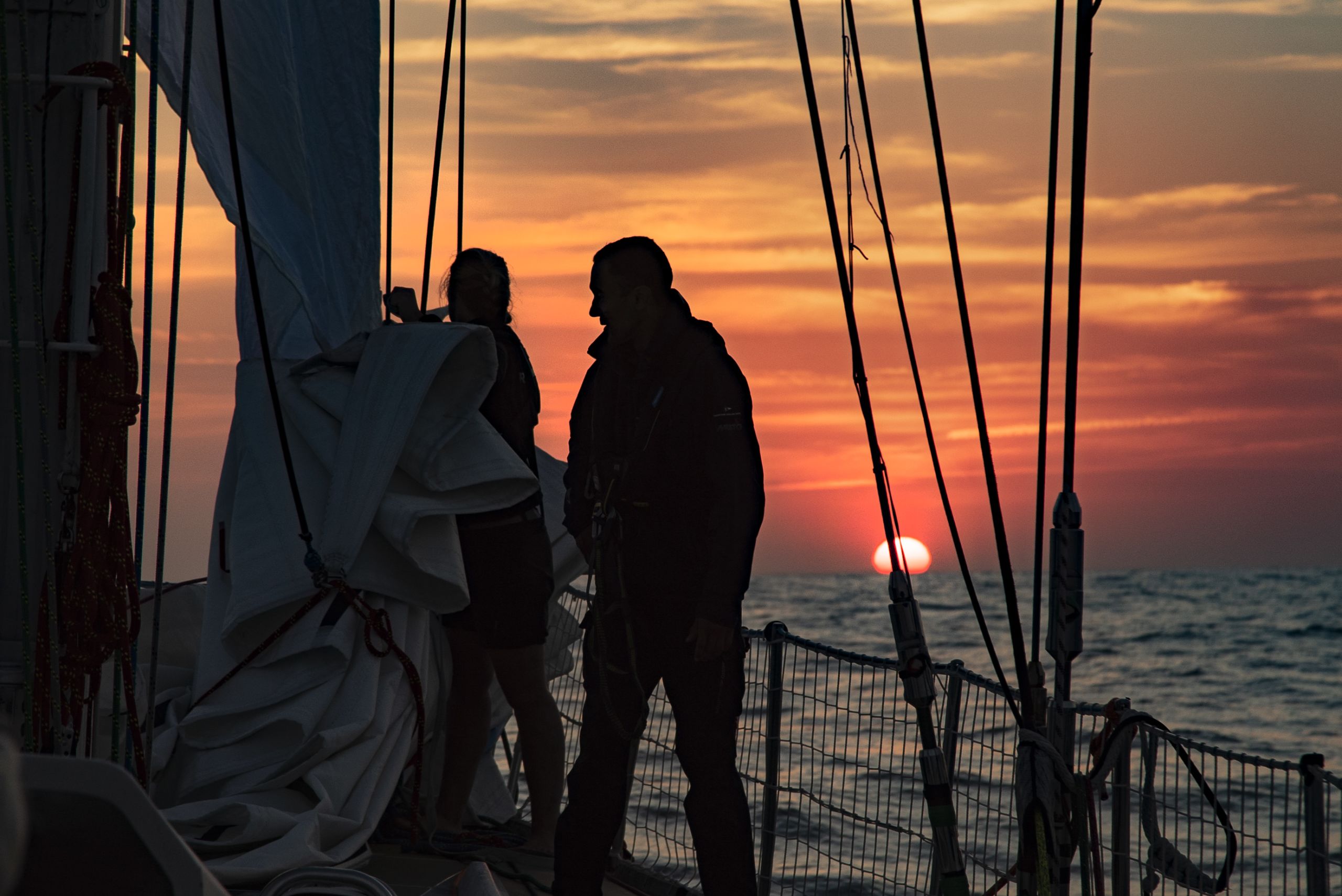 On board footage from the 2017-18 Clipper Round The World Race showing just how tough the conditions can be for ocean-going sailors. Video: Clipper Round The World
On board footage from the 2017-18 Clipper Round The World Race showing just how tough the conditions can be for ocean-going sailors. Video: Clipper Round The World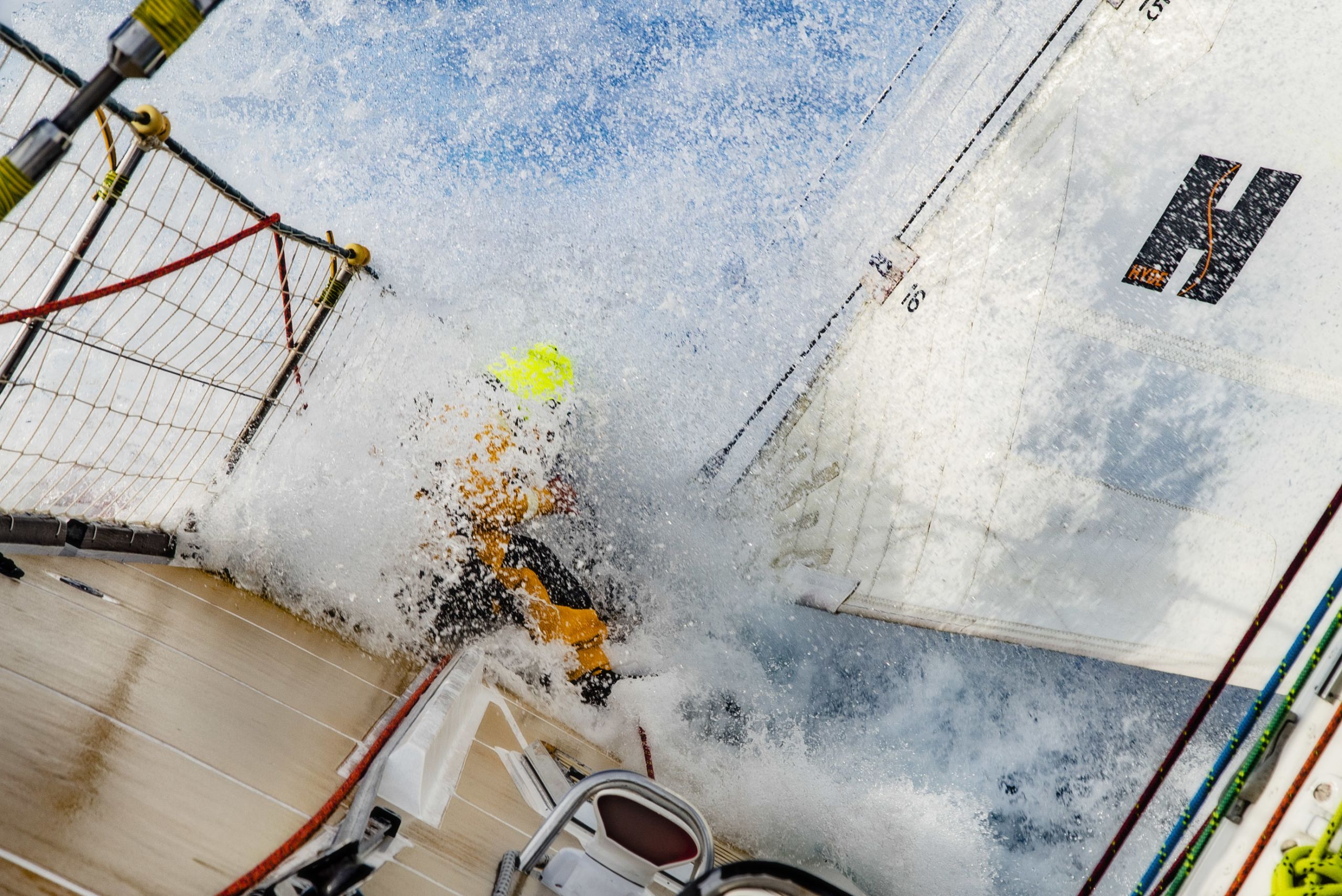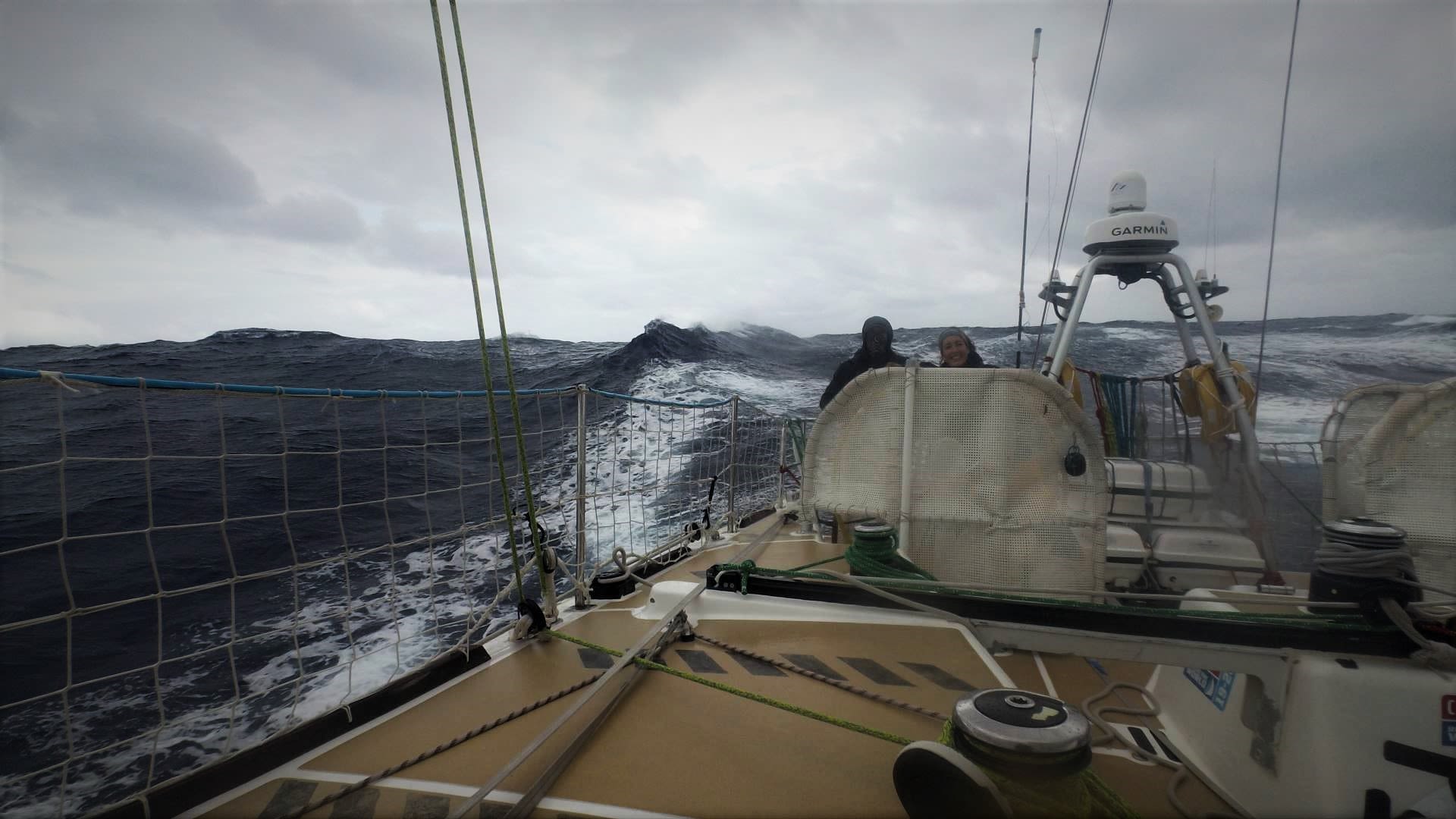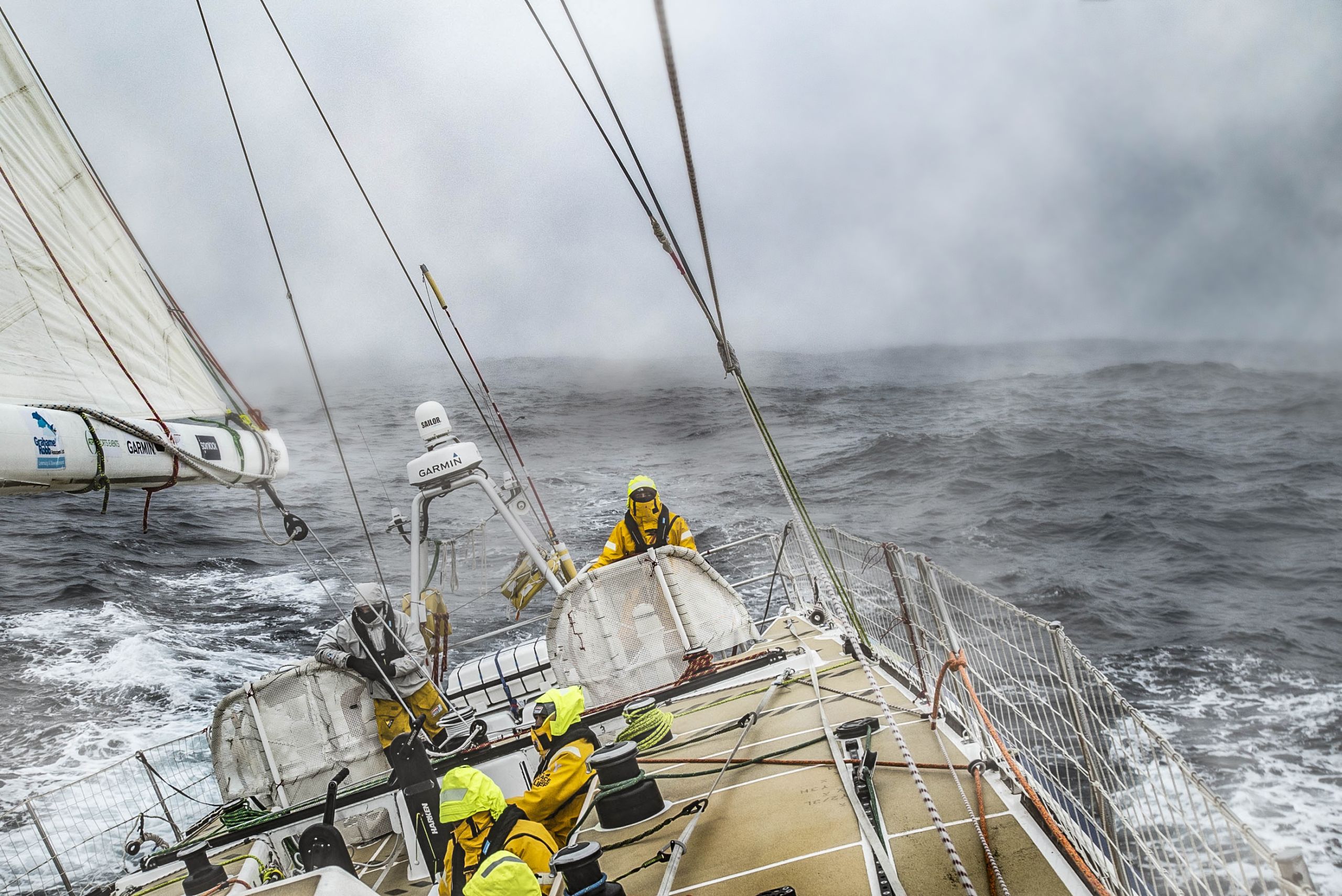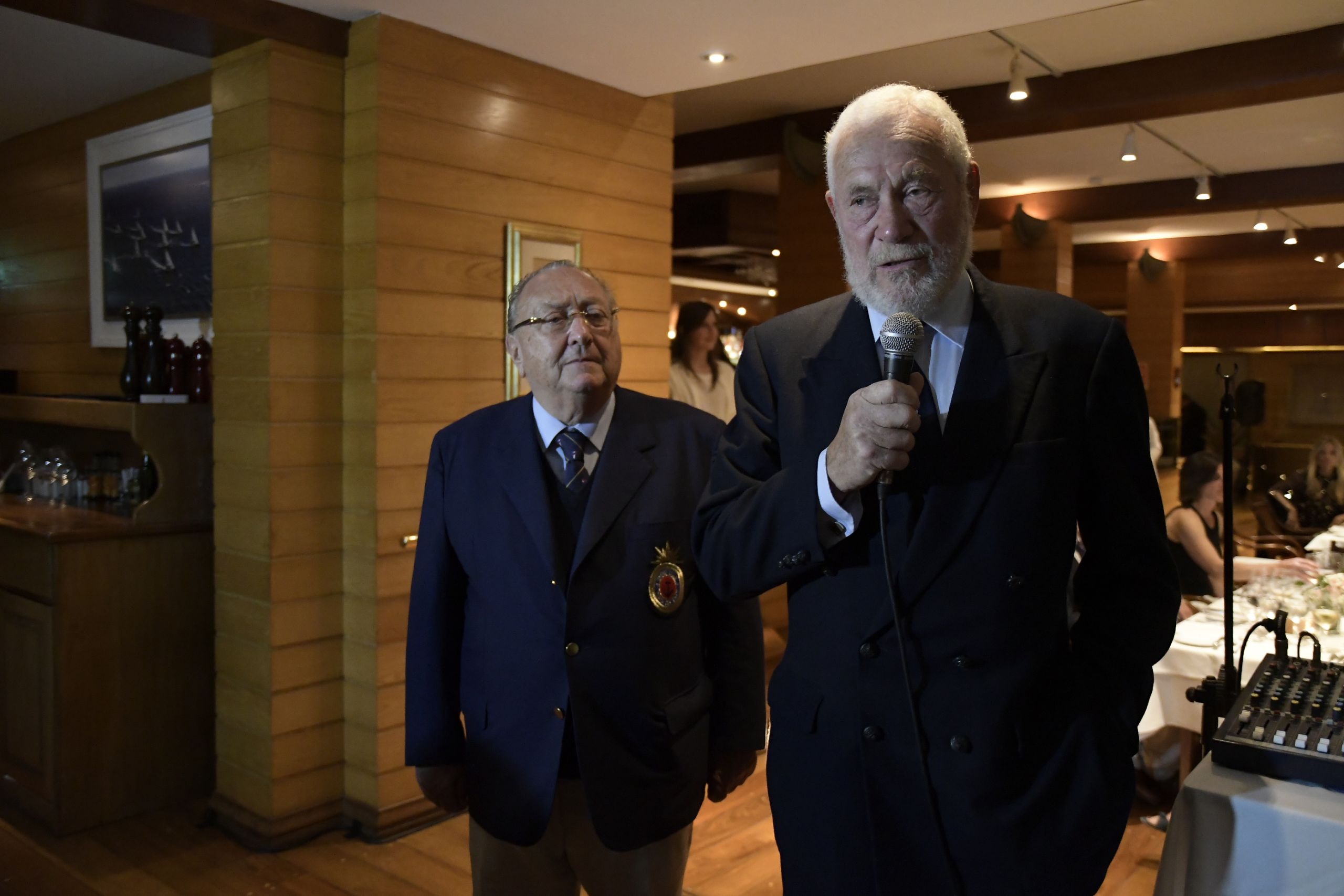 An unseen threat
During the subsequent years, Sir Robin's drive to succeed continued unabated. In 1994, he and New Zealander Peter Blake set a circumnavigation world record, taking 74 days and 22 hours.
His next landmark event was the 2006 Velux 5 Oceans Race, a round-the-world sailing competition, where he finished third. He followed this up with a solo transatlantic crossing in 2014, aged 75.
He also founded Clipper Round The World, a global organisation that trains amateur sailors to race in teams against one another.
Collectively, this means he's no stranger to 80-foot waves and life-threatening situations. But today, the coronavirus pandemic has left him feeling powerless in a different manner.
"When you're at sea, and you're in a storm, say, it's immediate," he says. "With this bloody virus, you can't see it."
When we talk, he's spent the past eight weeks hunkered down in his Portsmouth home. You'd think he'd be itching to get out. But he's prepared to stay the course.
"The National Health Service has been absolutely fantastic, the way they've dealt with it," he says. "We have a duty not to add to their load."
It's a resolute statement. But given his thrill-seeking nature, surely, it must feel strange to be classed as a "vulnerable adult"?
"Not officially – they've not sent me a letter!" he replies. "I'm obviously considered invulnerable."
We exchange smiles. It's a joke that highlights his dry humour rather than any sense of complacency. He's starkly aware of the COVID-19 mortality statistics concerning those in his age group and the precautions he should take.
"Frankly, I don't just want to risk it [catching the virus]," he says. "I'm not ready to go. I've got things I want to do."
As a person who's weathered some of the harshest conditions on the planet, the self-discipline required to "stay home" isn't a challenge. For all appearances, he's treating it as just another obstacle to overcome.
But you still get the sense Sir Robin would rather be alone at sea, facing a force nine gale than sitting back, putting his feet up, and riding out the coronavirus.
Finally, he's reckoning with a solitary experience where his skill, daring, and prodigious feats of courage aren't suited to the situation in which he finds himself.
Unless otherwise stated, all photos belong to Clipper Round the World